New York in the 70s
To me, if there is one movie "genre" that can rely on stunning atmosphere and cinematography alone it must be the gritty thrillers set in the New York of 1970's and early 1980's. Born in 1974, I cannot claim to have seen any of those movies upon their original release but throughout my adult years I have been an working my way down from sleazy eighties slasher like the New York Ripper, Manic, and Cruising to the paranoia thrillers such as Three Days of Condor and dirty cop movies like Death Wish.
I was therefore amazed but ecstatic that the independent non-profit theater Film Forum in West Soho (Hudson Square) announced a 3-week (!) film series about "New York in the 70's" that captures this interest so perfectly. The program counts 44 movies (trailer here) and includes many of my all time favorite movies such as Klute, Eyes of Laura Mars, Escape from New York, and The Warriors but also featured a number of rarer titles that I have not seen before. I decided to watch all of them and will provide brief notes and striking images / posters from the movies.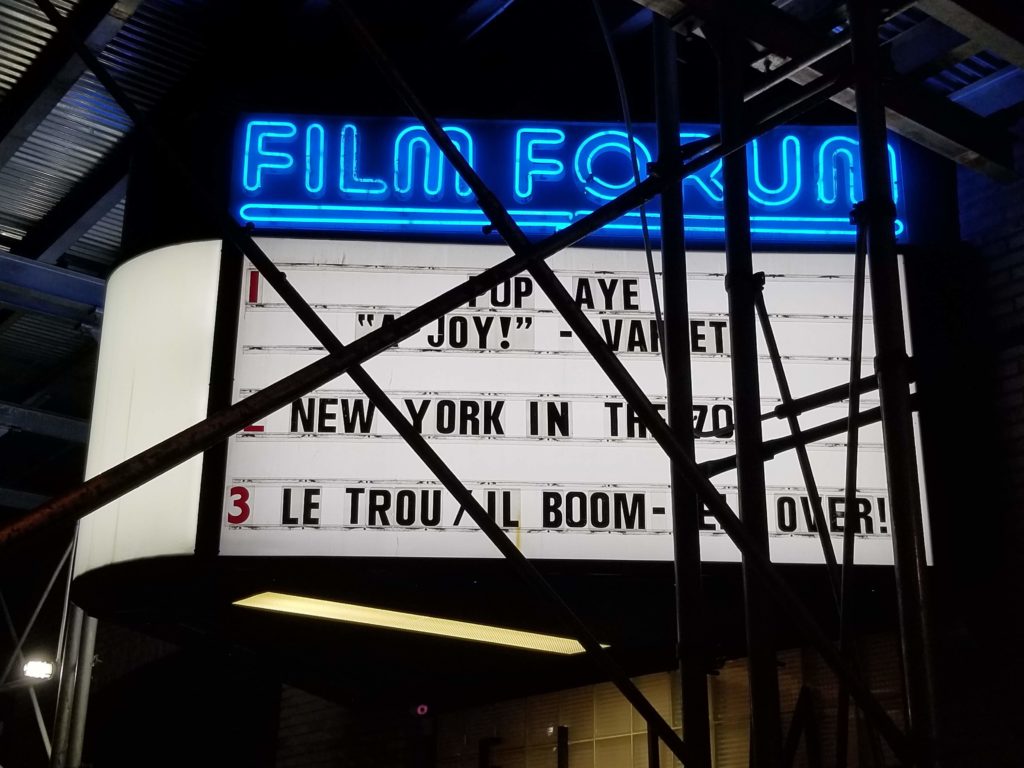 Wednesday, June 5
Taking Off
I had not even heard of this 1971 "zeitgeist" movie by Milos Forman and did not know what to expect. This brilliant black comedy is loaded with memorable camerawork and cuts, psychedelic and angst-ridden folk, and a complete collapse of the boundaries between conventional and unconventional behavior. With its prominent folk singing and absurd storytelling the movie struck me as some psychedelic urban Wicker Man. Most memorable line:
"I think that everything
that happens to us in life is…
it's just another life experience and we
should get everything out of it we can.
It's a life experience.
You know what I mean?
It's a marvellous philosophy."
 
 
I had this movie on my to-watch list for awhile. Gloria is set in New York. In the 70's. But I was not feeling it. It was sold out, and others had a lot of fun watching this so I guess I am not the right audience for this. The first time the main character used her gun was an unexpected, powerful, and funny scene. That I will admit.
 
 
Chantal Akerman's News from Home is a masterpiece and I am inclined to say the less is said about her movies the better. Even characterizing this movie as a meditation on loneliness or alienation seems restrictive to me. Â I suspect (well, I know) that many people consider films such as these "boring" but personally I preferred the scenes with just ambient or recorded sounds. The prolonged shots of the west periphery of Manhattan are sublime, as are the impressionist Twin Towers shots at the end.
 
 
 
Another Al Pacino movie, which some people might consider more "thought-provoking" than the predictable descent into hell in The Panic in Needle Park. Watching this movie again made me appreciate the farce-like "eternal return" quality of the main character being moved from precinct to precinct and encountering  the same kind of corruption. I loved the final Williamsburg scenes with the twin towers in the distance.
 
 
 
 
 
 
 
 
 
The 70s were known for disco but this is the first movie in the series in which the genre, or the movie soundtrack in general, played such an important role. Being a fan of disco music primed me for liking this movie a lot, and mostly, I did. It is not the kind of rough diamond that reveals more and more upon repeated viewing for me. Since I was staying in Red Hook during the weekend, I decided to walk all the way to Bay Ridge to see the  Verrazano-Narrows Bridge to Staten Island, which plays such an important role in the film. That neighborhood has quite changed now (not so conducive to disco culture it strikes me) and it struck me how vast and isolated the bridge looks, relatively to other Brooklyn bridges. I had a hard time imagining the main characters of the movie driving on it, getting out, doing dangerous acrobatics etc. I am a sucker for "what now?" open endings and Saturday Night Fever has one of those.
 
 
Born to Win more than made up for the paucity of gritty New York street shots in Where's Poppa. I cannot think of seeing a movie that has such sustained Times Square / 42nd street action going on. Released in the same year as The Panic in Needle Park, this movie, too, deals with heroin addiction but is more playful, has more movement and, in my opinion, more memorable scenes. The black humor in this movie  often expresses itself in many clumsy attempts of the addicts to swindle and steal. Even an epic trip to the countryside and ocean cannot stand up against the progressively worsening withdrawal symptoms of the main character – and back to sleazy New York City they go….
 
 
Jesus musical. I wanted to write "no comment" but I should note this may be the only movie with a scene set on top of the Twin Towers. Some of the songs anticipated the "freak folk" music that was popular in the US independent music scene a little while ago. The rather faded and reddish print of this movie reminded me of a similar worn print of Lucio Fulci's Zombie 2 that I saw at the Hollywood Theater in Portland last year. In fact, New York 70s imagery is quite prevalent in many of grindhouse and horror movies but most of these movies are not featured in this series at all.
 
 
 
 
At this point I am starting to think that it is fair to say that the 70s were not only the era of gritty thrillers but dark humor, too. If many comedies were like this, I could handle a lot more of them. Such Good Friends concerns infidelity on such a grand scale that it borders on farce. The measured anger and stoicism of the main character are fascinating to watch. Â A very different social setting than most of the other movies.
 
 
Walter Matthau starred in a number of great early / mid-70s thrillers and I was curious to see him in different role. Another black comedy set among the successful and wealthy. A wonderful meditation about how much lack of grace and clumsiness a man can take in return of fortune. Sometimes it is bad motives that gets the best out of people! Â  Elaine May is wonderful, too, as the nerdy and completely naive botanist.
 
 
 
Al Pachino stars as a way-too-nice bank robber in this….black comedy…. set (but not always filmed) in Brooklyn. Â I probably would have preferred the movie more if the Director would have just pushed the absurdist angle to the edge and not tried to tackle a lot of different contemporary issues and themes. Again loved the restraint in the use of music. The character of 'Sal' is priceless.
 
 
 
 
 
 
 
The Blaxploitation double feature starts off with Shaft ("the private dick"). Gorgeous shots of the hustle and bustle on the streets of 70s New York. Gangsters get thrown out of windows, pulsating bass lines, a fiercely independent protagonist, and such a memorable performance by Moses Gunn as "Bumpy."
 
 
One of the most visually compelling movies of the era with a legendary soundtrack by Curtis Mayfield. In Super Fly the music does not distract or work against the movie but enhances the experience. The camerawork and drawn out close up scenes have an (unintentional) quasi-avant-garde feel to them. Like Shaft, The Priest is no slave to anyone's cause and pursues wealth and comfort above all. Wonderful.
 
 
 
One of Martin Scorsese's earlier movies set in New York. I do not recall whether I have seen this movie before or terminated watching it. Which, I guess, should be telling. If I was not determined to watch all the movies in the program this would have been my "walk out" movie. Dull, ugly, and loud. Cannot find anything to hold my interest. A glimpse of old Little Italy and what is now named "Nolita."
 
 
 
 
It is obligatory to say that a movie like Network is "more relevant" than ever but here we are in 2017 and serious TV reporting still co-exists with sensationalist, rating-driven television and it does not seem that one will replace the other any time soon. There is a way of watching Network in which in every character and perspective looks vacuous, self-righteous, and arbitrary but I doubt many people would endorse such a nihilist interpretation  of the movie.  The highlight of the movie is Fay Dunaway, despite her portrayal of a ratings-driven TV executive being way overdone. Lots of memorable moments, including the famous "mad as hell" scene.
 
 
 
 
 
Turned out I had seen this movie before. Â Features a young Christopher Walken and many lovely scenes of early 70s opulent uptown New York apartments with generous Central Park shots. An early entry in the electronic surveillance genre. The attempted heist feels utterly futile, which is further reinforced by the fact that many of the characters were already (illegally) recorded during the planning stages. I love the visuals and sounds of the recording devices. This stuff never gets old.
 
 
Another heist movie. Featuring Robert Redford of Three Days of the Condor. This movie has a stronger emphasis on comedy and ridiculous situations. No shortage of 70s New York shots in this movie, including a memorable helicopter scene featuring the almost-finished Twin Towers. Is the prison feet picking scene a reference to the French Connection (released a year prior)? I am not aware of any other movies where reasonably smart criminals utilize hypnosis ("Afghanistan, banana stand") to execute their plans.
 
 
 
I really liked this movie and Carrie Snodgress was great as Bettina Balser, a housewife with an impossible husband (and impossible children!) who starts a sexual affair with a crude and demeaning writer. One of the most memorable New York shots is where she stands in front of his window facing the East River, the tip of Roosevelt Island, and Queens.
 
 
I do not think I have ever seen a Woody Allen movie and my understanding is that this kind of sombre drama is rare for him. The winter tones and shots of sparsely decorated apartments further emphasize this story about a dysfunctional, narcissistic, family who cannot seem to rise above their failed expectations of life, or take joy in the achievements of others – one of the characters faults another who is happy for being a "vulgarian."
 
 
 
I am not sure whether I had seen this movie about a former judge who imagines himself to be Sherlock Holmes before. If I did, this tale about finding love despite madness did not leave a lasting impression, and I do not think it will now. There is, I think, a brief, but gorgeous, shot of the urban wasteland that is the respectable neighborhood of DUMBO now.
 
 
This movie about  a hospital in New York where members of the stuff medical staff mysteriously die feels disjointed to me. It could have been a memorable black comedy, it could have been an existential drama, it could have a social commentary, but by doing all these things in one movie it goes in too many directions to hold my attention and fails on all counts.
 
 
 
 
These are the kind of movies that made me want to attend this festival! Three Days of Condor is one of the gems of the 1970s paranoia "trust no one" genre. There are many memorable scenes in this movie and it features Fay Dunaway in her prime. One of my favorite scenes is where the protagonist surveys the scene of the crime while the repetitive sounds of the office equipment keeps running. Â An interesting subplot is the meeting between the two main characters. Both of their lives have become defined by loneliness but for different reasons. Some of the action takes place in the old Twin Towers.
 
 
 
One of my favorite movies of the 1970s so I was thrilled to be able to watch this on the big screen in New York for the first time – despite the worn reddish print of the movie. Fay Dunaway shines again as a chic photographer of fashion and death in this sleazy US giallo. The murder and disco vibe anticipates some of the early 1980s sleazy slashers like the New York Ripper and Don't Go Into The House. Wonderful shots of old Soho and the Hudson river piers that no longer exist. I have seen this movie several times but there is a tenseness to it that I had not fully appreciated before. Eyes of Laura Mars deserves more coverage and recognition.
 
 
 
 
 
 
 
 
 
The seventies seem like a long time ago in this movie about an upper class person who finds himself having to assume landlord responsibilities in a very different Park Slope neighborhood. Some interesting subplots and memorable scenes, but not really my kind of movie.
 
 
 
I was not particularly impressed by this exercise in relationship dysfunction. Hard to believe that this is the same director as Eyes of Laura Mars, one of my favorite movies at the festival.   But perhaps I am just not drawn to this kind of close-up miserabilism.
 
 
 
 
 
Intense and well crafted movie about a hard-smoking, hard-boozing, womanizing theater director and choreographer's decline set in the world of show business. Roy Scheider is awesome and his girlfriend and daughter doing a "Everything Old is New Again" performance in his apartment to cheer him up is a sight to behold. A little too overproduced at the end, in my opinion.
 
 
Extremely gritty and (verbally) violent 1970s cop flick set in Harlem. Lacking the aesthetic qualities of movies such as The French Connection or Taxi Driver, its raw qualities are not offset by any kind of beautification. No dysfunctional Upper East side families here!
 
 
Two cops realize that there is more money to be made by working on the other side of the law and plan a bond heist. Not too memorable but it is always a pleasure to see Joe "Maniac" Spinell as a crook in a distinct flower shirt.
 
 
 
It's all there, the Hitchcock-inspired shower scenes (two!), Â gloves and straight razors straight out of the Giallo tradition, gorgeous shots of NYC, and the obligatory psychiatrist who explains it all in the end. The almost 45 minutes introduction of who we think is going to be the protagonist of the movie is as close as a Hithcock tribute as one can imagine and perhaps the strongest part of the movie.
 
 
I once saw Charles Bronson shopping in Beverly Hills. In this brutal action movie Bronson turns into a rather effective vigilante after his wife and daughter were brutally attacked at their home, leaving the former dead and the latter in a coma. Â Paul Kersey increasingly realizes that the local government's "monopoly of the legitimate use of violence "is not cutting it in New York and leaves the city a pathetic playground of criminals and muggers. Bronson's hardcore approach works so well that even the police is reluctant to make him a martyr by prosecuting him. We never see Paul reflect or converse about his vigilante lifestyle but his facial expressions indicate that he has considered all the standard arguments against it and rejected them. A tense, gritty, gem with extensive shots of New York and the subways. Wonderful.
 
 
 
 
Released in 1979, just in time to be considered a 1970s New York movie, one could be mistaken for thinking it being an early 1980's movie with its somber analog synths. The Warriors will be always be remembered for its extensive subway ride opening and the creative attire of all the different gangs. Its ridiculous, cartoonish, plot only adds to the magic. I have always considered The Warriors a movie that benefits from repeated watching.