Herbert Lieberman and the New York Ripper
The atmospheric opening scene in Lucio Fulci's nihilistic giallo masterpiece "The New York Ripper" (1982) starts with pan shots of the Manhattan skyline, the East river, and riverside Brooklyn with the urban sounds of traffic and police sirens setting the scene. Â An old man is walking his dog along the East River near Manhattan Bridge and starts playing fetch.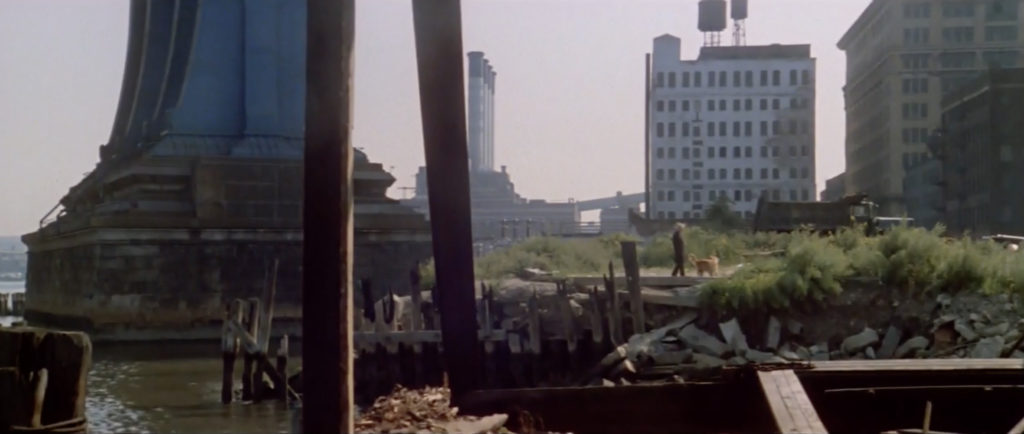 A second throw lands the stick into the bushes but the dog returns  with a decomposed hand instead, at which point the frame freezes and the music and opening titles begin.
In 1976 Herbert Lieberman wrote a gritty forensic detective novel named "City of the Dead," which is set in the same era's seedy New York City. It is possible that the opening scene in the New York Ripper was inspired by this book. In chapter 10 of "City of the Dead", Herbert Lieberman writes:
"The guy's out walkin' his dog, see? Right along the river. 'Bout six A.M. The dog's runnin' around off the leash, see? And the guy's just suckin' up the breeze. Enjoyin' the sunrise-"
"Skip the poetry, will you, Flynn? Just get on with the details."
Flynn seems momentarily injured by the Chief's impatience, but he continues. "Anyway, the guy whistles for Rover. The dog starts runnin' toward him, see? Tail waggin'. All full of piss and vinegar. Only he's got a goddamn hand in his mouth."
"A hand?"
"Yeah – a human hand."
The cover design, ghoulish female face, and font type of the 1977 paperback edition of "City of the Dead" anticipate another horror movie; George Romero's Dawn of the Dead (1978). But unlike George Romero's zombie movie, Lieberman's book deals with a grotesque murder and the psychological disintegration of New York's Chief Medical Examiner of New York. This paperback copy was tracked down in Kuala Lumpur's "Junk Bookstore" in July, 2015.